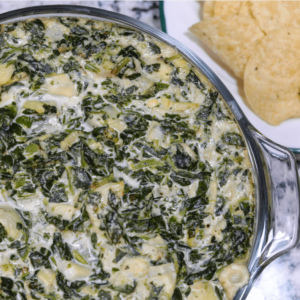 Frozen Spinach (thawed and drained): 10 ounces
Artichoke Hearts (can): 14 ounces
Alfredo Sauce (jar): 10 ounces
Mozzarella, Shredded: 1 cup
Parmesan, Shredded: 1/3 cup
Cream Cheese: 4 ounces
Garlic, Diced: 1 teaspoon
Don't remember where I found this, years and years ago, nor do I remember the official recipe, but my unofficial recipe is still good.
Preheat oven to 375.
Chop the artichoke hearts. Combine all the ingredients in a large bowl and mix thoroughly (you may want to put on some gloves and mix with your hands).
Place the Spinach Artichoke Dip into 8×8 glass baking dish and heat in the oven for about 40 minutes (or until the internal temperature has reached 165 degrees).
One or two times during the heating process, take the dip out to give it a quick stir.
Once hot, top with extra parmesan cheese and diced tomatoes, if desired. Serve with chips or bread.
This will be your new favorite appetizer!
Also, this works great for stuffed chicken.
TRACKING #1-583857