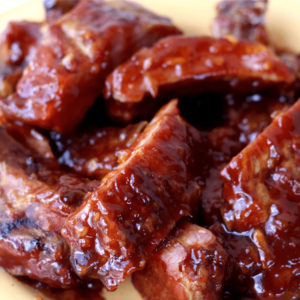 1/2 cup – Brown Sugar
1/2 cup – Paprika
1 tablespoon – Ground Black Pepper
2 tablespoons – Kosher Salt
1 tablespoon – Chili Powder
1 tablespoon – Garlic Powder
1 tablespoon – Onion Powder
1/2 tablespoon – Cumin powder
1/2 tablespoon – Cayenne Pepper
Combine all ingredients into a Ziploc bag and mix thoroughly ensuring no clumps of brown sugar remain.
Pork Ribs Cooking Process
1) Preheat the oven to 225 degrees.
2) Generously sprinkle the 'Rib Rub' on the top and the bottom of the raw pork ribs. Then massage the sprinkled 'Rib Rub' into the ribs. It will be difficult to put too much since most will run off during the cooking process.
3) Place the ribs into a roasting pan (or you may use a cookie sheet, but be careful to avoid spillage). Inside the roasting pan, place the ribs so that they do not overlap. You may cut the ribs in half to make fit better or as desired. Finally, tightly cover the roasting pan with foil to prevent moisture from escaping during the cooking process.
4) Place the roasting pan with the ribs into the preheated (225 degree) oven and let cook for about 4 to 5 hours (depending on the amount being cooked), but no more than 7 hours. This process will fully cook the pork ribs. The ribs are fully cooked if the internal temperature 145 degrees (This is for pork ribs).
5) After the ribs have been removed from the oven, let them rest for about an hour before completing the cooking process. Additional seasoning may be added at this time.
6) Preheat BBQ (or oven) on high. Then add ribs to the BBQ.
7) Let the ribs cook for a few minutes and then baste with BBQ sauce.
8) After the BBQ sauce has cooked on, remove the ribs from heat and serve.
TRACKING #1-506447