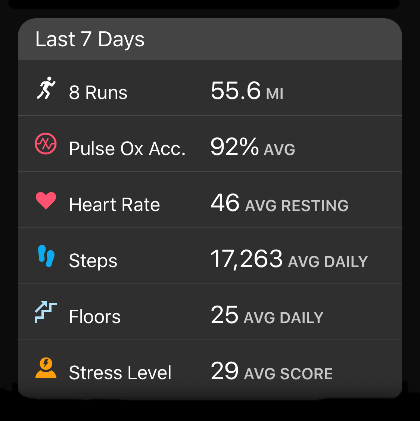 It is no secret that I hope to run a competitive time in the Boston Marathon. I logged over 56 miles per week during the summer months, mostly building what's called "an aerobic base." There were two short races, the Carver 5 miler (37:25) in July and the Stroudfest 5k (21:50) on Labor Day weekend. Both were small fields, so it wasn't surprising that I won my age group in each.
More important, this summer we discovered that despite my solid fitness there is a hypertension problem which we are working to get under control. Yes, high blood pressure can be a problem for athletes, and it is essential to take it seriously. In my case, it is a genetic issue, and we can control it with medication. We're just working through the options to find the treatment that works best for me.
A family history of cardiovascular disease is one of the reasons I started running as a teenager. My grandfather died of it, and my father started taking BP medications in the sixties. Since I'm the last of my siblings to manifest these problems, according to my doctor, a healthy lifestyle and God's blessings, merely delayed the inevitable.
Running lowers my blood pressure, so I'm under doctor's orders to keep training. The first round of meds, beta blockers, worked great on the BP but suppressed my heart rate, making any hard workouts impossible. If the heart can't supply enough blood to hard-working muscles, they don't move fast. Now that we've moved to angiotensin receptor blockers (ARBs) I'm able to resume harder workouts which should improve my speed.
As of this writing, there are no races on my calendar, other than Boston next April, assuming I successfully secure a bib during the open registration which begins Monday, September 10 for those of us with qualifying times at least 20 minutes faster than the minimum for our age group.
At Enduring Wealth Advisors® we take care of our clients' financial health with the same thoughtful diligence that should help me accomplish a successful Boston Marathon run. As always, please reach out with any questions or concerns.
TRACKING #1-768249