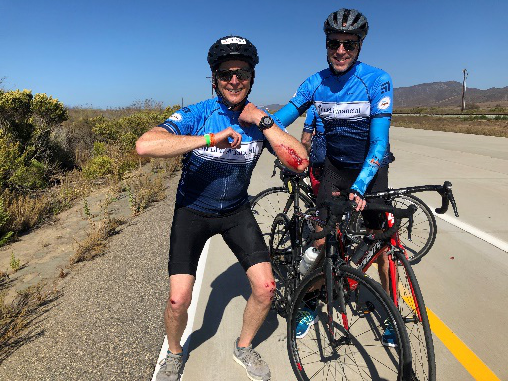 Cruising at about 20 miles per hour on a rented high-performance road bicycle is not a good time to make a mistake. But things happen.
Early in the morning, team captain Rob convinced me to change from the 50-mile to the 100-mile day-one route in the annual Bike MS Bay-to-Bay ride.
"When else are you going to do a century ride?"
Yea, that makes sense. I did the 50-mile ride when I joined Team LPL Financial last year. I haven't been on a road bike since. So why not go 100 miles on Saturday, followed by another 40 on Sunday as we make the scenic journey from Irvine to San Diego?
We were moving fast, at least it felt fast, through San Onofre as I experienced my first "pace line."
Just a few minutes later, after we'd turned onto a perfectly flat concrete roadway leading to our entrance to Camp Pendleton, I reached for my water bottle.
The next thing I remember is looking up at my team.
I'd caught the back wheel of Adam's bike.
Rob said my first words were "concrete is hard".
That is a true statement.
All four of my limbs got contusions, but it only took a few minutes to realize that nothing was broken. I sat along the roadside, surrounded by my team, as a Ride Marshall appeared and called for help.
None arrived.
But teammate Aaron rolled up. He thanked me for helping him catch up!
It was just a few minutes ride to the next aid station where we all hung out while the medics cleaned out the abrasions, stopped the bleeding, and bandaged the wounds.
I rode a bit cautiously the rest of the day but continued past the 50-mile turnoff point.
Then we turned inland towards San Marcos. At about 60 miles, the team had separated as we climbed from the coastal roads at sea level to 500' above sea level in just a couple of miles. I started noticing riders coming down the other side of the road and thought "if there's a rest stop at the top of this hill, I just might turn around".
Near the top of that hill, I saw a sign reading "Welcome to the Hills of San Elijo". It was demoralizing to know that more hills lie ahead.
As it turns out, there is a rest stop in the center of San Elijo, and to continue along the 100-mile route, riders had to leave that stop by 2:00 PM. I arrived at about 1:30. Much of the team was waiting and they were incredibly supportive. Most continued, but Josh had decided to join me on the turnaround, which becomes the 75-mile route.
As Josh and I were mounting our bikes, Rob came yelling to wait, as Aaron was just arriving and wanted to do the return with us.
We rolled pretty fast down that hill, but once I could see the ocean ahead, I needed to be done. I started cranking and basically pushed myself to the finish line without my teammates.
I apologized to Aaron and Josh later, but they both were gracious.
From the day's finish at the Carlsbad Sheraton Resort, I caught an Uber to an open Urgent Care. I was their second patient from the bike ride. They gave me enough bandages to keep the wounds properly dressed throughout the weekend.
I asked about stitches for my elbow, where the concrete had removed a piece of skin about the size of a nickel, exposing the muscle.
Nope. Your skin's too thin for stitches. They'd just rip out.
So, it's true, I'm thin skinned, literally.
Keeping all four limbs elevated made a challenge of sleep that night.
On Sunday morning, with bruised hands and stiff joints, we rode the 40-miles to the finish line at Mission Bay in San Diego. Climbing 400 feet up the 1 ½ mile Torrey Pines hill, as I looked up over my handlebars, I saw something making my troubles trivial by comparison.
There was no left leg below the hip on the rider I was about to pass.
Visit the National Multiple Sclerosis Society (nationalmssociety.org) website to support or join one of the similar rides scheduled around the country.
Better yet, plan to be a part of the experience next October, when I hope to complete that century ride!
TRACKING #1-921171