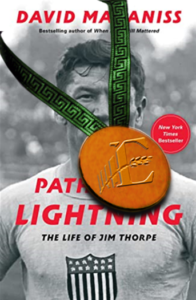 Title: Path Lit by Lightning; the Life of Jim Thorpe
Written by: David Maraniss
Review by: Ralph Bender, MBA, CFP®
Growing up in the Pocono Mountains of Northeastern Pennsylvania, I knew of Jim Thorpe not as the world's greatest athlete but as a little town in the next county with a weird name. How did it get named after an Indian? I'd assumed he was born there, or something. The truth forms the essence of this man's story.
I had no idea that he was overwhelmingly voted the best athlete of the first half of the 20th century! This was in an era that included baseball's Ty Cobb and Babe Ruth, Knute Rockne, and Red Grange in football. And Jesse Owens, the Afro-American who won four gold medals in the 1936 Berlin Olympics, held under the Nazi flags.
But I did buy into the official narrative that Thorpe had played professional baseball, before winning two gold medals in the 1912 Stockholm Olympics. After his triumphant return, the nation's adulation, an industrious reporter discovered that Thorpe had been indiscrete doing what all his contemporaries were doing under assumed names.
Thorpe's fortunes and popularity followed the arc of his athleticism. His early contemporaries included many names familiar to us over a century later. George S Patton was an Olympic teammate. He ran over an Army cadet named Dwight D Eisenhower on the gridiron.
While he never lost his fame, he never learned to use it for his own benefit. But others took advantage of the old Indian, who was more likely to give away the money he didn't drink. Despite the hard times which characterized his life, he always believed in hard work and in making a way for himself.
At times depressing, Maraniss' biography is nonetheless a compelling read, and anyone interested in the history of attitudes towards native Americans, the formative seasons of the NFL, or the national pastime, baseball, should enjoy this book.
And he does reveal the connection to the borough straddling the Lehigh River in Pennsylvania.